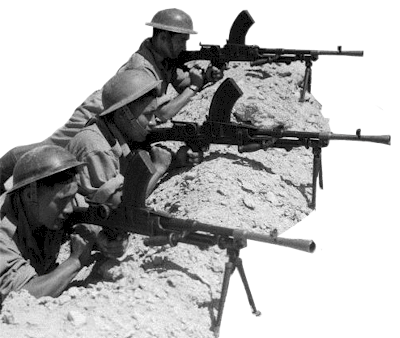 Regarded as the lightest of the Bren Guns, the MK3 had lightening cuts made to the receiver and usually was found with a barrel @2-3/4 inches shorter than the MK2 series barrel. Nevertheless, both sized barrels were used on this gun in WW2. This model was envisaged as an answer for Airborne and Infantry troops fighting in the jungles of the Pacific, but actually once production started in 1943, it found its way to every theater of the war.
Our kit comes with all parts shown including the correct receiver cut to BATF specifications, a very good condition barrel and 5 - .303 cal. magazines.
No sales to Washington state.
PLEASE NOTE: These kits normally come with 30rd magazines. If you live in a state or municipality with laws against magazines of this capacity, please select the "Remove Magazine" option. Kits WITHOUT magazines have a $5 discount. If you are not sure if there are restrictions in your state, please check your local laws. We check before shipping out Hi-Cap magazines. Giving false information will only delay your order or cause it to be canceled without notice.
1 Review
Rough, But Cheap and Workable

The good news:

Firstly, you do indeed get all the parts shown in the Sarco listing. I was at a loss to find even some of the tiny retaining pins missing from this kit. The included barrel does appear to have a good bore on it, I still need to deep clean mine to get all the grease out but I didn't see any obvious problems with it after putting a few patches through the bore. Also, the receiver is cut as seen in the Sarco photo. I do believe this receiver can be rebuilt as the amount of material removed is not excessive. The end section may be a bit of a challenge since they cut through the locking pin holes, but the locking recess and barrel trunion are intact, although the barrel locking collar recess will need a bit of work. Also, none of the major markings on the receiver I received have been touched.

The Bad News:

For those who are looking for an all matching gun, do not buy this kit. The receiver parts are matching, but the rest of this kit is a mix-master from various marks of Bren and in varying conditions. I received, a receiver Mk3, a Barrel Mk2 with Mk1 carry handle, charging handle Mk1, Bipod Mk1 just from what I can discern. However, since all I wanted was a fun range toy if this ever gets off the ground, this does not bother me all that much. I will say that all the parts except the bolt and bolt carrier have a heavy layer of preservative grease and a lot of the parts have surface rust on them. If you are willing to spend some time boiling and carding, this should not be impossible to remedy though.