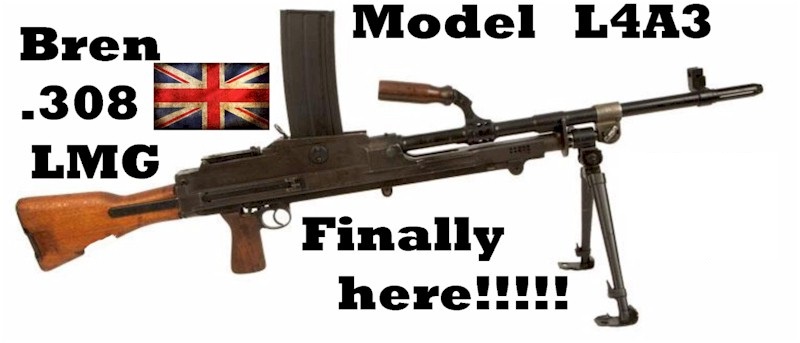 PLEASE NOTE: BARREL IS NOT INCLUDED
After over 50 years of searching for these on the international market, we've finally obtained the classic .308 Bren as used from the 1950s through the 1990s ! Last major use was in the Falklands War, but they are still blasting away in the Congo, Sudan, and other hot spots. Predecessor to the MAG-58, the Bren .308 LMGs evolved in many versions, whether converted from existing Bren models or made completely new, these guns were a formidable improvement on the .303 models. Stalwart enough for use in the Falkland operation where British 2 Para, employed them along side the MAG-58. The magazines were ideally made to interchange with the the L1A1 service rifle of the time. SARCO has obtained the Model L4A3 Bren Light Machine Gun and had the receivers cut to BATF specifications. All parts except barrel are included with the kit including the 4 pieces of demilled receiver and we include 1 – 30 rd. .308 magazine! The quality of the kit is generally in very good condition. This would make a fabulous 'semi' build, or display gun. Get one while you can because they are quite limited!
No sales to Washington state.

PLEASE NOTE: These kits normally come with a 30rd magazine. If the shipping address is in a state or municipality with laws against magazines of this capacity, we will remove the magazine from the kit before shipping.
1 Review
Bren .308 LMG L4A3 Parts Kit

It arrived well packaged. However the way it was demilled makes it useless. The barrel area was cut through among other issues. It is an expensive paper weight. Sacro should cull through these and mark the ones that can be repaired and the ones that are good only for the springs, pins etc. I learned a lesson! Buyer beware, unless you see the receiver you are getting, don't buy it blind!