The 1911 is a fossil, not in the sense that it is dated but in the sense that it will never die. One of the most successful handgun platforms of all time, and by far one of the most influential, it has been carried by countless military and law enforcement personnel around the world for over 100 years - and of course, civilians.
A gun doesn't last for over 100 years because it desperately needs upgrades. If anything, we could say a stock 1911 is fine just as it is.
But all the same, there are some things you can tweak to improve the performance or handling of the gun - and these are some of them.
1. Upgraded Grips
The Colt 1911 has some pretty solid ergonomics, with relatively wide grips and a trigger that only moves in one dimension. Still, they could be better.
Some shooters find that the 1911 is too slim or too angular for their tastes. Rather than just upgrading the grips with a different wood or color or pattern, consider a set of oversized or over-molded grips such as those made by Hogue.
They change the overall contours of the 1911's grip, adding surface area that improves control, comfort, and recoil management.
2. Extended Magazine Release
Fast mag drops are crucial in scoring during competition and can be lifesaving at other times. Not that the mag release is difficult to engage on a 1911, but it could be better.
Consider an extended mag release that offers some additional purchase and is easier to engage. This will make it easier for you to instinctually drop your mags.
Some 1911 extended mag releases also raise some looser-fitting magazines a little higher in the magwell, which can help with feeding.
3. 1911 Extended Mags
Now let's talk about 1911 extended mags themselves. Your 1911 probably has a capacity of either 7 or 8 rounds of .45 ACP, right? That's plenty of stopping power, but only a shot or two more than most revolvers. You might as well make the semi-automatic action worth it.
We carry 1911 extended mags that offer significantly higher capacities than stock mags, which will save you time at the range and extend the enjoyment of range therapy.
So, technically a new 1911 extended mag isn't really an upgrade to the 1911 itself, but it's still a practical adjustment.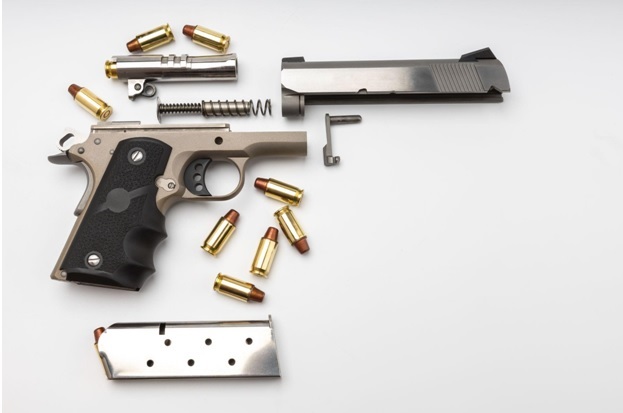 4. 1911 Magwells
Another great 1911 upgrade is a magwell. These are basically wide-lipped funnels that attach to the base of the handgun (or the frame, it really depends on the gun and model of magwell) that help channel the magazine into the gun.
Magwells can diminish fumbling, especially during high-stress situations, and can help shave seconds off your reload times. In fact, two of the most meaningful upgrades you can make in terms of cutting time off your reload speeds is to upgrade your 1911 with an extended mag release and a magwell.
5. Upgraded, Full-Length Guide Rods
The stock recoil guide rod in a 1911 does not extend the full length of the recoil spring. On a recoil-operated handgun like a 1911, protecting that spring against kinking will extend the life of the spring and improve cycling.
Now, this upgrade is a bit of a toss-up. Some shooters don't feel it makes a difference. Others report that the tighter barrel-to-slide fit improves the fluidity of cycling and feeding. Others yet report that accuracy improves.
Either way, a full-length guide rod will provide better protection to your recoil spring, so that alone makes it a reasonable investment.
6. Night Sights
Many 1911 handguns lack any sort of rail or reasonable attachment point for shooting accessories, lights, and optics. Therefore, the most impactful upgrade you can make in terms of night-time shooting is simply replacing the sights.
There are night sights you can buy for 1911 handguns that are made with glow-in-the-dark tritium that will last for many years. They can improve your accuracy when shooting at night substantially, as well as your confidence and handling in the dark.
7. Upgrade with a Rail
Finally, we'll close out with a suggestion that you upgrade with a rail mod or accessory. There are kits you can buy for a 1911 that contain rails (or rail adapters).
Most of these modify the platform so that there is an attachment point under the barrel. This gives you room to add lights or lasers to the 1911 which you otherwise wouldn't be able to add.
Need a New 1911 Extended Mag or Guide Rod?
Whether you're looking to shave milliseconds off your reload times, provide a higher degree of protection to your recoil spring, or simply add some rail space to your 1911, these upgrades will help you achieve those goals.
And - no one has more 1911 parts than SARCO, Inc. Whatever you're looking for, be it a 1911 extended mag or a new set of grips, check here first. If you can't find it in our collection, contact us at 610-250-3960 and let us know so we can help you find it.