The M1911 in .45 ACP is arguably the most famous, and influential, pistol that has ever been developed.
Heavy, reliable to a fault, ergonomic, and paired with a cartridge that offers great stopping power, the M1911 has had an illustrious service history spanning 12 decades and two world wars.
It remains popular in the civilian market, as well. Just look at the number of clones and offshoots it has spawned.
That brings us to Rock Island 1911 pistols, which are some of the most basic, and affordable, but reliable of them all.
One of the most common questions out there is "Are Rock Island 1911 pistols good?"
The answer is an easy "yes," provided you have the right expectations, so here's what you can expect.
Fit, Finish, Features
First, there's more than one Rock Island 1911 pistol, so for the purposes of this overview, we're going to look at the Rock Standard FS in .45 ACP.
It's not the most beautiful 1911 clone in the industry, but it is handsome in its all-black aesthetic. What it lacks in rose-tone wood grips, it makes up for with austere black checkered rubber that offers an excellent grip and requires basically no maintenance.
It's 2.5 lbs, 8.54" long overall, 5.51" high and 1.3" wide. It has an 8-round capacity and a 4-6 lb trigger, crisply set from the factory.
This Rock Island 1911 pistol features a grip safety as well as a manual thumb safety. It can be carried with a round chambered, the hammer cocked, and the thumb safety on.
One of the great things about the dual-safety design is that, not only is the thumb safety easy to manipulate (which makes it easy to get the pistol into action) but if the pistol is accidentally dropped, the grip safety will block the trigger, helping to prevent accidental discharge.
The trigger is another nice detail that is preserved from the original M1911. Unlike so many other triggers of other popular platforms, it travels in only one direction - straight to the rear. It is crisp and there is almost no creep, making it enjoyable to shoot.
It has dovetail-mounted standard front sights and a snag-free fixed rear sight. These are GI-type sights and are fairly serviceable when properly adjusted.
The exposed metal of the firearm features a matte, parkerized finish that is non-reflective and easy to care for as it is fairly corrosion-resistant.
It also features a 5" button-rifled barrel as well as a full-length guide rod that helps improve stability and improve cycling and handling. (The picture at the top of this article is of one with a threaded barrel.)
Not everything is exactly the same in this Rock Island 1911 pistol as the original, though. The hammer is skeletonized, and the ejection port is larger, which is a potential benefit with extraction and ejection. The grips are also rubber, and not wood - as stated.
Reliability and Accuracy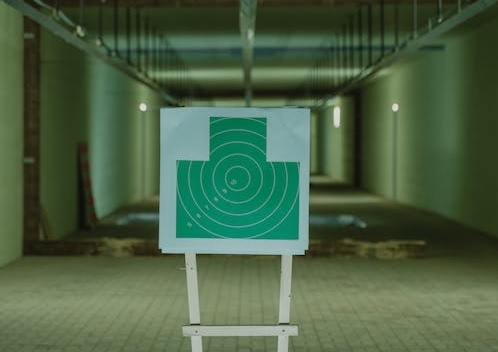 In terms of handling, firing, and accuracy, the Rock Island Standard FS 1911 is a great option. It's not too heavy to wear and carry all day, yet it is stable enough to handle the recoil from a .45 ACP cartridge.
Keep in mind that all ammo performs differently, even when fired from the same gun, but overall, the RI Standard FS is stable, reliable, and fluid. It feeds smoothly, controls recoil, and is accurate enough when the sights are well-adjusted.
With high-quality factory loads, the RI Standard FS is accurate enough to produce groups of 3" or less within 25 yards. Keep in mind that your skill as a shooter will factor into this. The gun itself is accurate but that does not absolve you of the need to train with your handgun.
Some shooters have commented that a fresh action is a little gritty and can cause jams. But after you put 500 to 1000 rounds through a Rock like this, the action will limber up and become much more fluid.
All in all, its design is very close to the original, in terms of aesthetics and functionality. It has a great overall look and feel, even though the aesthetic is fairly austere.
In sum, it is accurate, reliable (once you break the action in through a few hundred rounds), intuitive to use, and straightforward.
It also offers a great mix of price and value - one of the best you will find out there among 1911 clones, in fact. Many would say that a Rock is the best affordable 1911 you can buy that makes no concessions on reliability or accuracy at such a low price point.
So, yes, Rock Island 1911 pistols are good, to say the least.
Options in Different Rock Island 1911 Pistols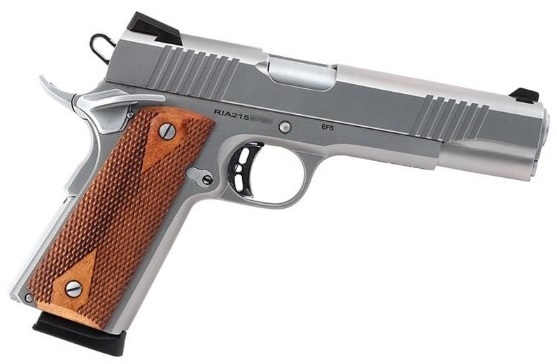 There's one more thing that makes a Rock a sure buy. There are so many of them.
In addition to the Standard FS, there are Rock Island 1911 pistols, there are compact models, double-stack models, and variants chambered in 9mm, 10mm, and .40 S&W. There are even .22LR/9mm Luger combos.
Moreover, they are available in a number of different configurations, including two-tone, Cerakote, and Nickel-plated models.
And, in addition to the Rock Island 1911 line, Rock Island armory makes a ton of other high-quality, extremely reliable pistols in their Tac and GI lines, among other Rock Island firearms.
So go ahead and make your next pistol a Rock. You won't regret it.