One of the most popular handguns ever developed and adopted into official service, there are now countless M1911 pistols and clones in civilian hands.
A 1911 or a 1911 clone is a reliable handgun from the factory, but if you want to get more functionality than the stock offers you, look into these 1911 accessories and upgrades.
Night Sights
You know the saying, "What you can't see can kill you?" It is unfortunately true, and most 1911 pistols have plain iron sights, with no rail to mount accessories like lights.
This is easily rectified, and one of the best ways is with a set of glow-in-the-dark night sights. You can either replace the sights, or, if you can't replace the entire slide with one that has night sights installed.
Night sights will glow on their own for many years without requiring any intervention and actually have a slight advantage over WMLs - you can see your target over night sights but the target can't see you. A light can give you away.
A Grip with an Integral Laser
One of the coolest 1911 accessories we sell here at SARCO, Inc., (which also happens to be one of the most practical) is our set of Crimson Trace Laser Grips.
In case you didn't notice, most 1911 handguns don't have any rail space, making it somewhat complicated to mount lasers, lights, or other shooting accessories - but these grips solve that problem in one fell swoop.
These laser grip sights are easy to install on a wide range of 1911-style pistols, including but not limited to Colt Officer and Defender 1911 pistols, Para, Kimber, Wilson Combat, and Springfield Armory 1911-style pistols (see the link above for full details).
Plus, they come with batteries and are simple and easy to install.
Or Just Grips, Generally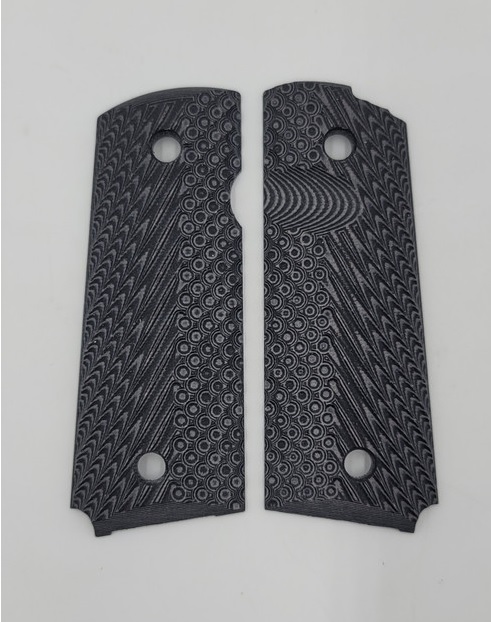 Traditional 1911 grips are checkered rosewood (though there are other grips). These are handsome but wood can be moody and requires a lot of TLC to keep it bright and shiny.
The grips with which you outfit your 1911 is not a matter of vanity - at least it doesn't need to be. It should be a concern of function, handling, and ease of maintenance.
That's why we offer a huge collection of 1911 grips in our online catalog. Many of these are made from composite materials like G10 and Micarta, which are maintenance-free and are impervious to moisture and adverse conditions. We even sell wrap-around grips for 1911 pistols.
A Trigger Guard Mounted Light or Laser
You know how most 1911-style pistols utterly lack any sort of rail space? That's alright, as long as you know how to make adjustments.
Suppose you want to mount a weapon-mounted light (WML) or laser to your 1911? You could either take it to a gunsmith or get a trigger-guard mounted configuration.
The latter is much easier to make and allows you to convert and customize your 1911 however you like without any permanent modifications.
A Full-Length Guide Rod
This is one that's been made so many times it almost seems banal to bring it up again, but it's also a relatively easy 1911 upgrade to make and one that's well worth it.
Installing a full-length or heavier guide rod plays two potentially very important, functions.
One is that it helps prevent the potential issue of the recoil spring binding as the action cycles. This improves cycling fluidity and extends the life of the recoil spring.
The other is that a full-length (or heavier) guide rod adds weight near the muzzle, changing the balance of the handgun - to its benefit.
A muzzle-heavy 1911 is more stable in the hand and also helps to naturally absorb some recoil and muzzle flip, keeping your sights trained on target, enabling faster, more accurate follow up shots.
An Extended Magazine Release
If you compete with a 1911 handgun then you're already well aware of the impact of time on your scoring. Adding a new, extended magazine release to your handgun can enable smoother, swifter mag drops, paring down your overall time in competition.
A Better 1911 Mag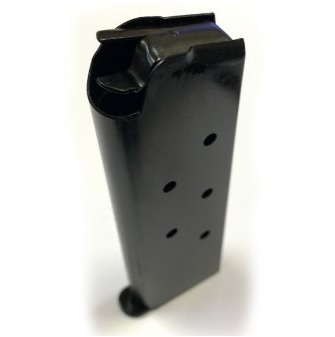 If there's one thing we can probably agree all 1911 pistols can benefit from, it's a better 1911 mag.
We've put a lot of work into it, and we've come up with what we think is the best 1911 mag on the market.
This .45 ACP 7-round single-stack 1911 mag is made on a computer-controlled high-speed link press, and welding is done on a computer-controlled robotic arm argon welder. Body tooling has 6 stages, with 16 for the follower, resulting in fewer radical bends, producing less metal stress.
It has a rounded follower, parallel feed lips for smoother feeding, a dimple designed to work as a mag catch override for smoother feeds, and springs are tested to 20,000 cycles.
The mag body is processed to convert the surface into hard, corrosion-resistant magnetite, and the mag tube is carburized and nitrided, strengthening it, preventing deformation due to cartridge inertia.
And the best part? These mags are available for less than $7 each.
This 1911 mag is the perfect entry into this list of high-quality 1911 accessories.
Discover More 1911 Accessories in Our Showroom
What we've included here is just the tip of the iceberg. If you want to discover even more 1911 accessories, come visit us in our showroom at 50 Hilton Street in Easton, Pennsylvania. There are hundreds more where these came from.