In 1959, Charles "Cholly" Steen III, a Marine veteran and engineering student, took his firearm collection to a gun show. That collection, powered by goal-driven ambition, blossomed over the next 6 decades into Steen Armament Research Co., better known as SARCO, Inc., which would become one of the world's leading wholesale and retail suppliers of firearms, parts, gun accessories, and military curiosities.
Over the course of the past 60 years, SARCO, Inc.'s loyal customers have helped us grow into the company we are today. Currently, we run three locations, including our 7,000-square-foot showroom in Easton, Pennsylvania, which showcases innumerable firearms, parts, military collectibles, and so much more.
We've always believed in giving back to our customers, which is why we offer such a varied collection of hard-to-find parts and collectibles. We also believe in giving back through education, which is why we run this blog.
Throughout the years, we've also given back through our partnerships with and donations to a variety of charitable organizations, including the Boy Scouts of America, the Wounded Warrior Program, and Toys for Tots.
We're thankful for every customer that's helped us grow from our humble beginnings to one of the industry's most well-respected vendors of firearms and parts, and while you can find much of what makes us great here on our website, we want to celebrate 60 years in business with you the old fashioned way - in our showroom, where the best deals are.
60 Years in Business, 12 Years in the Lehigh Valley
Believe it or not, SARCO Inc., was actually originally founded over the river in New Jersey. We're celebrating 60 years in business and 12 years of success in the Lehigh Valley at our current location in Easton, Pennsylvania, and we're giving back to our valued customers with two weekends of inflation-busting deals.
Two Weekends of Inflation-Busting Deals
The inflation rate is currently running at 7.7% and is forecasted to rise to 8.8% through 2022.
While that's inevitably not the best news, we're prepared to give back to our customers with two weekends of inflation-busting deals.
Come and join us in our showroom at 50 Hilton Street on November 18-19 and November 25-26, 2022, and reap the rewards.
We're giving back to our customers in a big way - select Rock Island pistols come with 2 free magazines (see below for details) and all purchases get free 60th Anniversary SARCO Swag!
We're also doing a Rock Island giveaway. Enter our sweepstakes to win a Rock Island 1911 pistol!
No purchase or consideration is necessary to enter and we're giving away a Rock Island Standard 1911 each weekend of the promotion (dates below). Entries must be submitted in person - no emailed, phoned, or faxed entries will be considered.
It's a good excuse to come into our showroom and get some free swag with your other purchases, anyway.
While you don't need to be present at the drawing to win, you do need to come to visit us in our showroom - this inflation buster deal is in person only, so mark your calendars and visit us on November 18-19 and 25-26.
Shop Rock Island 1911 Pistols and Save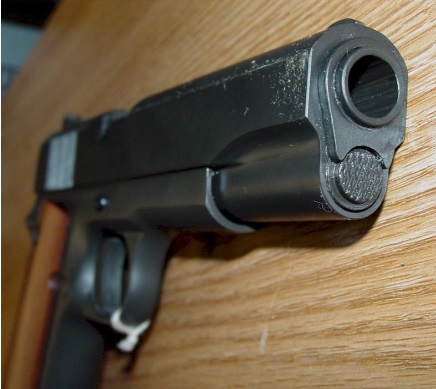 Some of our biggest, best deals are Rock Island-themed. It's no secret that Rock Island Armory's 1911 variants are some of the best in the industry.
Their Rock Island 1911 pistols are reliable, ergonomic, and have tons of shooter-friendly features. They also make variants that are suitable for concealed carry or which have sections of rail under the barrel, making them perfect for mounting accessories.
While you're here on our website (or when you visit us in our showroom) you can shop through one of the industry's widest collections of Rock Island 1911 pistols, including but not limited to the GI Standard CS, MS, and FS, Rock Island TAC Rock Pistols, and Rock Island Rock Ultra Pistols.
We also carry Rock Island pistol frames, and Rock Island revolvers in our collection, and during our two-weekend 60th-anniversary celebration, we're making the deal even better.
During our 60th-anniversary celebration, every Rock Island pistol sold (select models only) comes with 2 FREE magazines - see the following page for details.
Get in Touch with Us
For 60 years, SARCO, Inc., has been your premier provider of firearms, parts, ammo, military collectibles, gun parts and build kits, and more.
You've helped get us to where we are today. Now it's our turn to give back to you! Come on into our showroom for the next two weeks for free SARCO Inc., Swag, and much more.
If you have any questions ahead of time, please reference our 60th Anniversary Celebration flyer online or get in touch with us directly. You can reach us at 610-250-3960 - let us know what we can answer for you!