There's no single feature or factor that makes a quality concealed carry weapon. Rather, there are several that must be balanced.
Naturally, we have weight, size, and dimensions. A cumbersomely large handgun, with a bulky footprint that prints through your clothing is naturally not a match.
So it must be sized and appropriately portioned. It must also be paired with a suitable cartridge and have a decent capacity.
Reliability, too, and intuitive controls, are necessary in a weapon to be used for personal defense.
Then you have things like expandability and affordability - these are nice to have but not often dealbreakers.
Rock Island 1911 pistols more often than not hit all of these buttons simultaneously. Here are some of the best models for defensive applications, specifically for concealed carry.
Rock Standard CS .45 ACP
The Rock Standard CS in .45 ACP is a pretty generic, but highly practical handgun for concealed carry.
This Rock Island 1911 pistol is only 7.13" by 5.12" by 1.3" and weighs just 2.5lbs. It has a 7 round capacity with .45 ACP.
This makes it small enough to carry under most clothing, for prolonged periods of time, with minimal risk of fatigue or printing. Also, despite the low capacity, it wants nothing for firepower.
Otherwise, it's a pretty basic 1911-style pistol, without bells or whistles. But it's affordable and reliable, and there's not much more you could ask for.
Rock Ultra CS .45 ACP
The 7-round Rock Ultra CS in .45 ACP is basically the same thing as the Rock Standard CS in the same chambering, but with a few upgrades.
It is nearly identical in dimensions but weighs just a bit less at 2.16 lbs. It also has tougher G10 grips in place of the rubber grips of the former, along with upgraded sights. This one has an LPA MPS1-type adjustable rear sight and a dovetail fiber optic front sight that's superior in low-light conditions.
TAC Ultra CS 9mm
If you're looking for something similarly sized, but with a bit less kick and about the same stopping power, go with the Rock Island TAC Ultra CS in 9mm.
The RI TAC Ultra CS in 9mm is just 7.13" by 5" by 1.3" and 2.25 lbs, making it, for all intents and purposes, the same size and weight as the previous two Rock Island 1911 pistols.
This one also has an adjustable rear sight and a fiber optic front sight that's good in low-light conditions (making it good for concealed carry in the dark), along with an MR3 trigger with overtravel adjustment.
One more thing that makes this TAC Ultra CS in 9mm a top choice is the presence of a short section of rail under the slide. There's just enough room to mount a light, a laser, or some other shooting attachment.
By the way, this same basic model is also available in .45 ACP (pictured below), if you prefer the traditional 1911 chambering.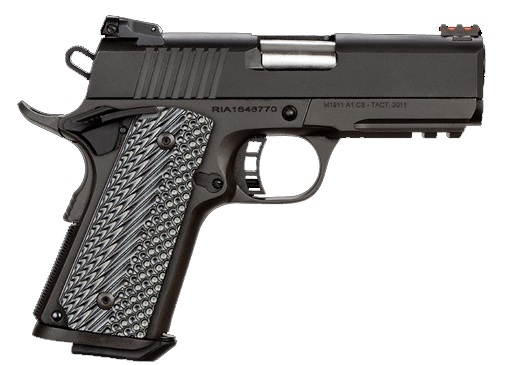 BBR Standard .380 ACP
This might be the Rock Island 1911 pistol for you if you find that 9mm and .45 ACP kick just a bit hard for your liking.
So far, on this list, this is the supreme option when it comes to minimal size, weight and footprint. This little gun is only 3.75" by 4.61" by 1.25". It's a featherweight, too. It weighs just 1.47 lbs empty and 1.64 lbs loaded.
Unlikely to print and extremely comfortable to carry thanks to its low weight, it's also a no-frills, highly affordable pistol. It has mounted dovetail cut front and rear sights, rubber grips, and CNC angle grooves at the front and rear of the slide to give you a better grip when racking the action.
Just be aware of this: the small dimensions and downsizing come at a price. Though chambered in .380 ACP, this little pistol only has a 7-round capacity.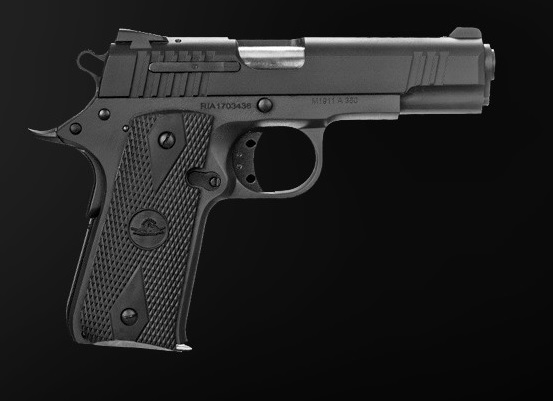 BBR 3.10 .45 ACP (Pictured at Top of Article)
A lilliputian in size but a behemoth in power, the BBR 3.10 in .45 ACP is the smallest handgun on this list, and though it isn't the lightest, it makes up for that in capacity and power.
At only 3.2" by 4.5" by 1.5", this Baby Rock is impossibly compact, and at only 2 lbs, it's quite light, too. It's easy to conceal and just as easy to carry, but it packs a punch, too, with a 10+1 round capacity of .45 ACP. It is, in fact, Rock Island's lightest and smallest .45 ACP handgun.
It's everything you could want in a super-compact concealed carry handgun, with impressive power on top of that. Just be ready for the kick.
Explore Other Rock Island 1911 Pistols and Firearm Parts
Any of these Rock Island 1911 pistols would be suitable for concealed carry, though which is right for you will depend on what sort of stopping power you want, how much gun you're comfortable with carrying, how compact each model is, and other personal considerations.
Nevertheless, there is likely something in Rock Island Armory's collection of hand-fitted pistols manufactured to strict tolerances that will work for you.
While you're here, make sure you check out our collection of firearms parts, too. We can help you restore an aging Rock Island or make customizations or upgrades to it, too. If you have any questions about our firearm parts or how to make upgrades, contact us at 610-250-3960.