Getting involved in WW2 reenactment can be as simple as sending an email to a local historical society and expressing your interest or as involved as cutting your hair, changing your wardrobe, and drilling with a genuine M1 Garand - that's part of the fun. It can be as big or as basic as you make it.
We're here to answer a few questions you might have about WW2 reenactment - where you can do it, what type of gear you should carry, and much more.
Check it out and call us if you have questions.
What Is World War 2 Reenactment?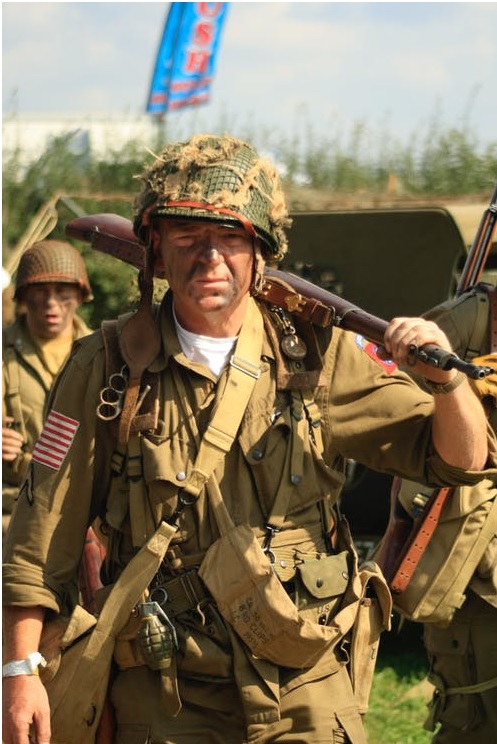 World War 2 reenactment is, at its most basic level, reenacted historical engagements between combatants that occurred during the Second World War, between two or more warring parties, from 1939 to 1945.
Typically, American reenactments center around recreating historical battles that occurred between the United States Armed Forces and its principal combatants, Nazi Germany and Imperial Japan, in the European and Pacific Theaters of the war, respectively. These reenactments may or may not include participation from co-belligerents and Allied forces such as British, Australian, or Soviet Russian forces.
Some WW2 reenactments are highly prescriptive, requiring participants to carry periodic authentic gear, to align their uniforms, field gear, and weapons with fellow members, and even specific to the engagement.
Sometimes historical reenactments take place at the specific battlefields where those battles occurred in the past. In American versions of WW2 reenactments, since the war was not fought on American soil, typically the battlefields are replicated with as much attention to historical details as the site chosen for the event will permit.
Where Can You Partake in WW2 Reenactment?
You don't need to travel far and wide across the country to partake in WW2 reenactments, although you can if you want to.
Even if you're right here in our neck of the woods in Northeast Pennsylvania, there are historical societies that conduct reenactments. Here are some of the local ones:
●The 45th Division Reenactors specifically hosts WW2 reenactments and events in Pennsylvania, New Jersey, and Delaware, all within reach of locals in our area.
●The Oil Creek and Titusville Railroad occasionally hosts WW2-themed events and reenactments. They currently have a reenactment planned for June 25th, 2022. Check their website us or contact us for details.
●The 506th Parachute Infantry Regiment hosts WW2-themed events throughout the year in the area of Hazleton, PA, including gun shows and reenactments.
These are just some of the local groups that perform reenactments. If you're willing to get more involved or travel a little farther, consider checking out:
●The WWII Historical Reenactment Society serves as one of the largest, growing reenactment societies in the world and aims to spread education about the Second World War. They host reenactments throughout the year, across the United States, as well as in Canada and Europe.
●The American Heritage Museum hosts reenactments throughout the year.
●Also, MilSurpia.com maintains a list of reenactment societies, by state, across the country, as well as the impressions they reenact. The vast majority are American and German, although there are British and even Russian reenactors!
If you're in a different area of the country and none of these groups is active in your area, the best advice we can offer is to ask around and check online. Most if not all of these groups are publicly listed and have their own websites.
Are There Other Types of Historical Reenactments?
Yes, there are many other types of reenactments, many of which recreate historical engagements or simply serve as an opportunity for those interested in history to get together and share their enthusiasm, experience, and collectibles.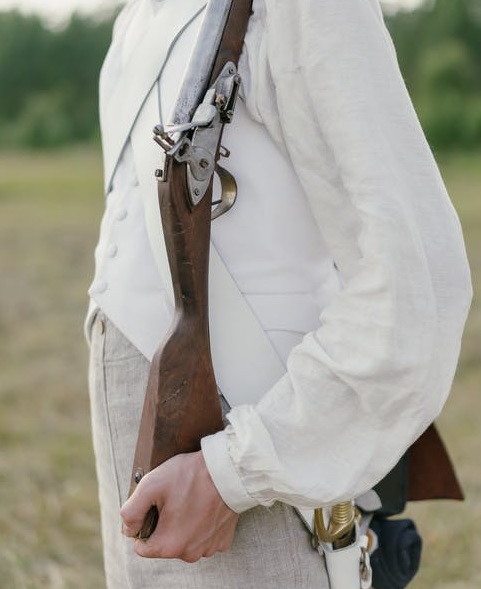 In the United States, there are many organizations dedicated to reenacting engagements from the American Revolution and the American Civil War, many of which perform reenactments on historical battlefields themselves.
Do Reenactors Use Real Guns?
Some reenactors use airsoft guns or non-firing replica guns, but some organizations permit the use of real firearms.
Whether or not real arms are permissible is subject to the by-laws of the organization responsible for the event as well as to applicable state and local laws. As a result, these organizations often maintain very stringent regulations to uphold safety practices as well as authenticity.
What WW2 Reenactment Gear Do I Need?
What reenactment gear you will ultimately need is subject to the rules of the historical society conducting the event.
However, be prepared to invest in the following gear, which will be specific to the armed forces you will be reenacting:
●Authentic, reproduction, or replica firearms.
●Authentic uniforms, insignia, and emblems. Camouflage patterns often must match the period and place.
●Medals and other military decorations.
●Field gear, such as mess kits, canteens, knives, bayonets, and other tools.
For more specific information, contact the organizer of the event and ask for specific requirements. Many organizations are very specific with respect to the gear they do and do not allow during events.
Are There Other Uses for Reenactment and Period Authentic Gear?
In addition to their use for reenactment, WW2 reenactment gear and other historical reproductions have a wide range of other uses, including some of the following:
●Equipment for training and drilling.
●As educational props.
●For amateur filming and theater productions.
●As additions to historical collections
In the event that reenactment gear is authentic, it can also potentially represent a significant monetary investment that will appreciate with time.
Contact Us to Learn More
Here at SARCO, Inc., we carry a wide range of firearms parts and accessories, including non-firing replica guns and many pieces of historical, military collectibles. Many of our gear is reproduced, but we also carry a select, limited number of authentic pieces from history, including World War II.
If you're getting ready to join a reenacting group and keeping history alive by reenacting events involving Allied and Axis powers, take a look through our collection of WW2 reenactment gear and essentials and let us know how we can help. They're perfect for living history events, and you can reach us at 610-250-3960.