G-3 ZF Scopes & Mounts
Haven't had these in years! Original German military service ZF–1 and ZF-24 Sniper Scopes with original claw mounts for the G-3 Rifle. Manufactured by Hensoldt/Wetzlar, these scopes are premium quality and although used, are in good condition and come complete with green case, claw mount, filter eyepiece, and in the case of the ZF-24, a mounting plate to accept a reticle illuminator if needed. Some optics may have a few black specs but otherwise in great shape. It's a rare occasion when we can get these and they never stay in stock for long, so act quickly! SECOND Version also has a see-through reticle that can be illuminated.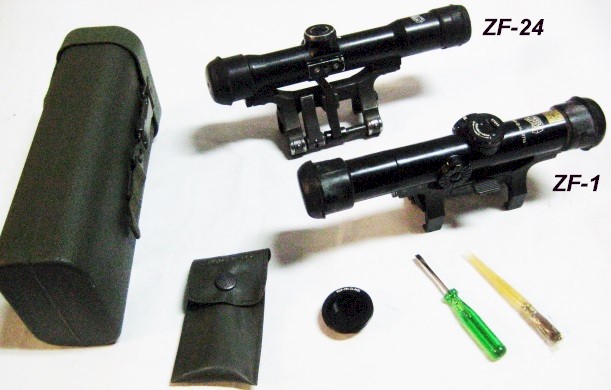 3 Reviews
Got the model 1, fits fine on other STANAG mounts ofc. Crystal clear glass and all turrets function but a touch rusty on the set screws. These have the classic German military reticle. Tube condition/finish is almost new, rubber lens caps aren't great but do the job. The case it comes with is a neat thing but probably only really good for storage, not carrying around. Good price for what it is compared to other "collector" offerings out there. Keeps your rifle looking retro and low-profile while still having a quality and practical optic.

Overall, I'm OK with the purchase, but the price was top dollar given what I believe to be below average condition. The Scope pictured had to have been hand picked for the photo or I got a particularly poor example. I also received a Karl Kaps, which is equivalent quality, but I already have a Kaps and wanted a Hensoldt. The optics are still crystal clear, but the cosmetic condition is not worthy of being mounted on my HK41, so I will likely sell it and look for a better example.

Very good. Mounted right up. Tightened screws between scope and mount. Bore sighted. Shot out to 100 to 200 yds. Very close. Need to bench rest it. I like it so far. Where are all the reticle illuminators?